Posted by Bishop Maxim Vasiljevic on Sep 21st 2021
Technology is so omnipresent in the 21st century that we must consider whether it has become the very reality of life itself. It is difficult and arduous to decide how best to consider it both authentically and critically. By using different apps as a tool, people believe that Orthodoxy can become ingrained in our everyday life. At the same time, we know that even the most developed mobile app can't replace the Church. So what would be an "ideal" ecclesial mobile app? Maybe you can consider OrthoPrax®.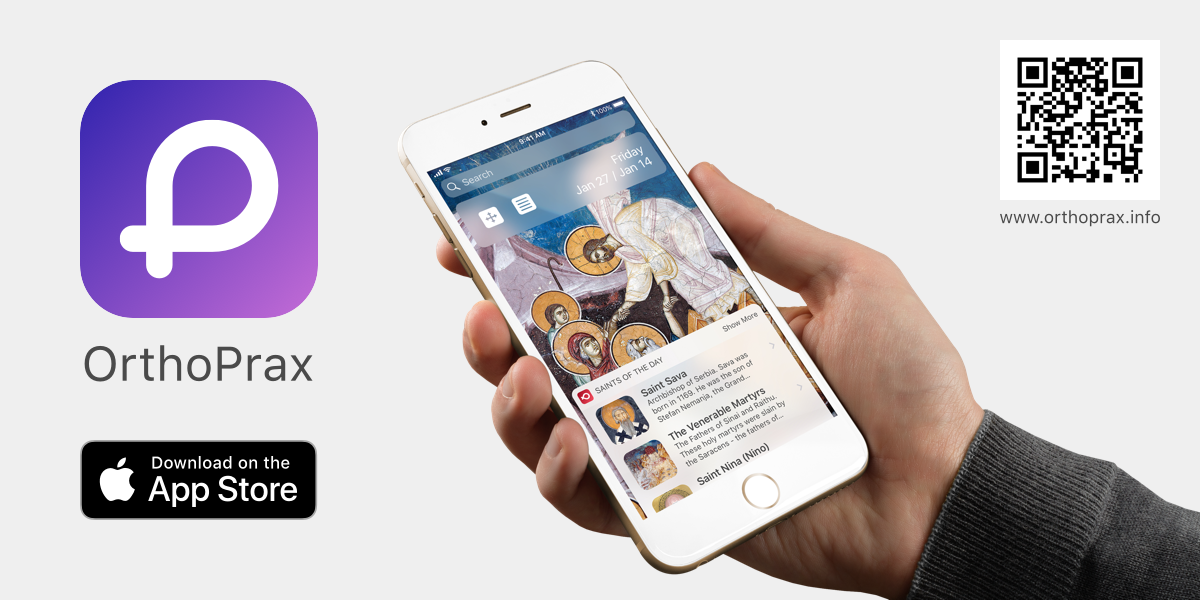 OrthoPrax® is the ultimate Christian Orthodox calendar, prayer book, and guide with 3,500+ curated icons, daily prayers, and readings to help you experience and enjoy the liturgical cycle of the Church. Developed by the group of Orthodox laymen, it contains a wealth of information on the saints, far more than any other app you've seen. In-app purchases provide access to rich textual and audio content such as The Prologue of Ohrid by St. Nikolai of Serbia. But, you might ask, what of it?
This app is enhanced by a number of harmoniously organized features. Let's take a look at some of the most prominent. In a nutshell, calendar and lives of the saints (most comprehensive collection of saints for each day), biblical readings, beautiful daily and occasional prayers (morning, evening, pre-communion, etc.), most comprehensive collection of curated icons (3,500+) in high quality images (multiple icons per saint and feast day where available), words of wisdom from Church fathers, ecumenical teachers, and inspiration from ascetical fathers—all that you can take with you on your iPhone or Android at all times. Put it simply, this is one of the most in-depth works I have seen in an app, arranging an astonishing back-end infrastructure for Orthodox content.
The real jewel here is the entire St Nikolai's Prologue both as full text (the lives of the saints, hymns of praise, reflection, contemplation and homily) and in audio format—brought alive with Fr. Norman Kosanovic's broadcast voice right on your device. This holistic compendium of Orthodox tradition would require dozens of large pricy books. This points to the real intent of this initiative.
The OrthoPrax App on your mobile device is very user-friendly "thesaurus" and the easiest way to access the day's Bible readings prescribed by the typicon of the Church. The wealth of information (fasting rules, lectionary, tone of week, hagiography, troparia, etc.) is organized in a systematic way, easy to read typeface, which can be enlarged. If I'm traveling, there is no better way to carry the Church's prescribed Scripture and devotional reading, since it has all the necessary prayers and I don't have to take a library with me. The calendar is adjustable to select any day of the year (so if you're on the New Calendar, you don't have to go forward thirteen days to look at the Old one). You can change from old calendar to new. In addition, it supports Greek, Antiochian, Russian and OCA specifics regarding the saints and calendar. The App also lets you lookup fasting guidelines for each day. For the lives of the saints, it usually shares several saints per day with biographies that are extensive, while their icons are included as thumbnail images.
I see the developer continues to grow the app and add more and more contents (readings, sayings, lives of the saints, etc.). Soon, the app will allow you to receive notifications of prayers, reflections, texts of homilies, a calendar of events, so you will be able to keep track of all your schedules. (I would love to have fasting and holiday alert feature!) Very soon it will provide access to documents of the Church councils and institutional information of the Orthodox Church.
In our time, such an App is especially important. Today's lifestyle, fueled by technology, introduces another kind of communication, mainly due to the urges of modern "digital" life (and its symptoms: absence of patience, instant gratification, everything being supposed to happen now, etc.). As OrthoPrax developers indicate, their focus is "on the pathway to Orthodoxy, and to help you experience it in an easily accessible manner." With that clarification, our understanding of mobile apps arena can really be refined and we should be grateful for the neatest and most elegant apps on the market. This is the most attractive mobile app put forward during the last decade. It generates excitement because it raises the possibility of a new approach to the digital world with a redeeming effect of great significance.